Over the weekend I had the pleasure of seeing two O.A.R. shows. The first was on Friday night at the magnificent Red Rocks Amphitheater. This was the bands second appearance at Red Rocks. You can read about my experience the first time they played here. And just like that first time, we took a limo to the show. But unlike the last time, Kim and I were the only ones in the limo.
We arrived just as doors were opening and eventually made our way into the show. Once we entered, a quick rain shower sent us hiding to the visitors center and hall of fame area. The show was delayed for 15 minutes, which gave me time to get down to our seats in the roped off soundboard area and get my recording equipment setup. We met up with a good friend of mine from OARfans.com, Aaron Pitcock, just as Brett Dennen was taking the stage for his opening set.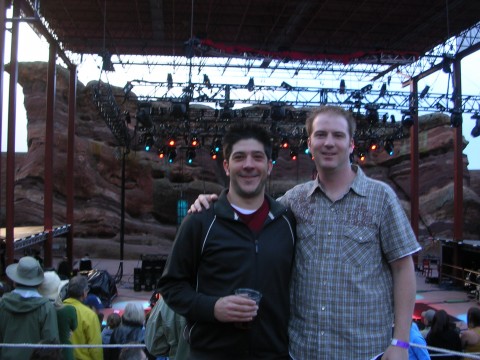 As Dennen took the stage, the skies cleared and the weather was perfect for an evening show on the rocks. Aaron is a big fan of Brett Dennen and was the one who introduced me to his music a couple of years ago. Needless to say, he was in heaven the entire night. I believe he played for about 45 minutes and provided a great opening set while everyone filed into their seats.
After a short set change, O.A.R. took the stage launching into what would become one of my favorite sets I've seen from them in years. Just take a look at the full setlist! Highlights for me included a rocking "Right On Time" and the always great "So Moved On." But honestly, I really can't say one bad thing about that setlist. It was a great night and I'm sure the sold out crowd would agree with me.
Listen to my tape below and see what you think. Plus stay tuned for more on the second show of the weekend.